Woke up an ape 🦥 Definitely not in Kansas anymore 🎩 DrΞamer+Creat◎r 🔮 LFG frens 👨‍🚀🚀
what if we lived in a world without inspiration? 👀
my SuperRare genesis explores this idea.
"bubble boy" takes us to 2032, when traditionalists have won out over AI artists and instituted strict rules for training new artists.
now minted.
the story and link in thread 🫧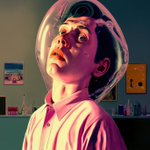 Don't miss out curated content from your favorite people
Join to see curated content, recommendations and collections from your favorite people.
Find creators I follow