Thread by Thomas Frank: My initial thoughts on the @gumroad price increase: The 10% flat fee "no longer includes credit card processing fees", which means it's more like a 12.9% fee to sell on the platform. We do ~$100K/mo in sales, so this would make our fees go up to ro
Tweet
My initial thoughts on the
@gumroad
price increase:
The 10% flat fee "no longer includes credit card processing fees", which means it's more like a 12.9% fee to sell on the platform.
We do ~$100K/mo in sales, so this would make our fees go up to roughly $13,000/mo.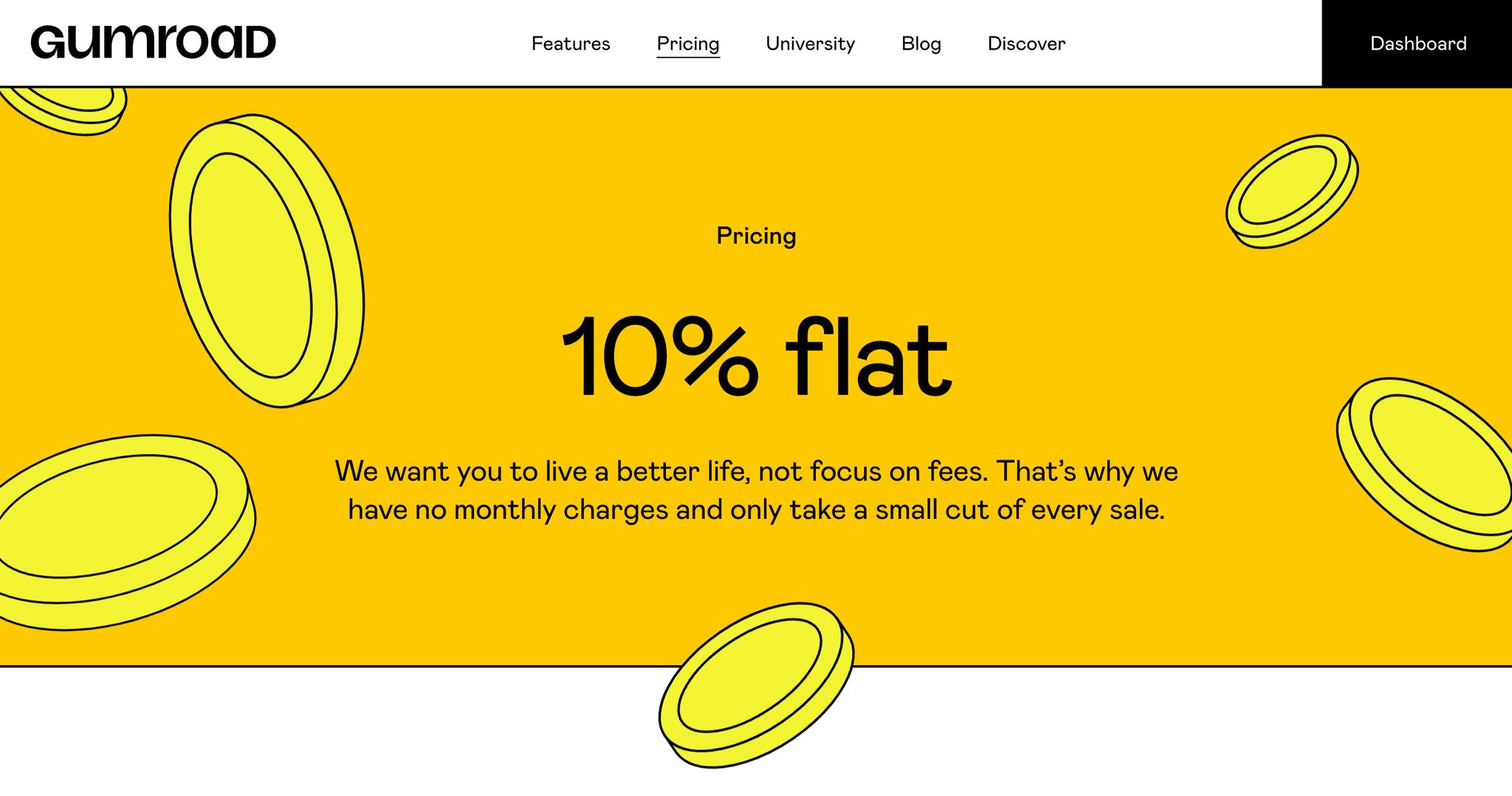 Currently, we are on the 3% fee tier.

So this is essentially a $10k/mo price increase, which is the cost of at least one new full-time employee.

Clearly, this means we need to look at other options.

(I'll touch on alternatives later in the thread)
I'm not emotional about this; it's just business.
Clearly,
@shl
and co. believe this is the best direction for the company.
I'd like to share some thoughts on that direction - both some speculation and some hopefully constructive criticism.
First, the fee itself.
10% plus CC processing makes Gumroad nearly the most expensive option in the industry (%-wise) for selling digital goods and memberships.
As far as I know, only
@Patreon
's premium tier is more expensive at 12% + CC fees.
Substack also charges 10%.
This comes at the same time they're investing in their editor, cart experience, adding teams support, etc.

It's clear they want to be more than a payment processor; they want to compete with Patreon, Podia, Substack, etc to be a one-stop-shop option for creators.
One issue is that Patreon already has massive mindshare, so creators justify the huge fee (for now).

Trying to step into that part of the market now is going to be tough given that there are now so many more competitive options gaining ground.
In addition, other platforms offer many of the same "one-stop-shop" features under a pricing model that is much more attractive to large sellers.
I can sell on
@circleapp
for 1% (plus CC fee), and just pay $99/mo for community features and courses.
Alternatively, I can sell on
@ConvertKit
Commerce at 3.5% + $0.30 (which includes VAT handling) and simply pay a flat fee for my email list.
(I already pay for both Circle and ConvertKit's flat-fee services, though I don't sell on them)
As a particularly high-volume seller, I'm ultimately incentivized to construct my own stack, paying for the best possible tools in each area and spending some extra to grow my team.
$99/mo for my course platform, $500/mo for my (fairly large) email list, and $50/mo for a world-class site look like nothing compared to $10,000/mo in extra fees on sales.
The Gumroad team is not ignorant of these facts; they've been in this game for over 10 years.

This means that they have decided that serving high-volume sellers and creators with large audiences is not in their best interest.

They seem to want to focus on smaller sellers.
If I were running Gumroad (which I'm sure I would end up doing quite clumsily), this would not be the direction I'd choose to go.

So that means their ultimate goals are likely different than mine would be.

To offer some speculation:
1) Perhaps this is not the true, intended price increase.

Perhaps it is higher than intended, so a backing-down to a more "reasonable" flat rate seems better by comparison.

We shall see.
2) Perhaps they truly believe that the losses incurred by high-volume sellers leaving will be more than made up for by smaller sellers accepting the 10% fee in exchange for everything the platform has (and will have) to offer.
Having gone through the painful beginnings of selling online myself, I can attest to how confusing the whole process is.

Having a single place to sell, deliver, do email marketing, website, etc is attractive.

And handling VAT entirely is also great. Dealing with VAT sucks.
3) Perhaps they are looking to be acquired, in which case the focus would be on making short-term revenue as high as possible.

I have no actual insight into this, but the decision to essentially drive away large creators doesn't seem good for long-term strategy.
FWIW,
@shl
mentions that "sustainability means not looking for an exit" around 45:00 in the board meeting video.
So perhaps there is no intention to sell; perhaps they believe this is needed for long-run sustainability.
www.youtube.com/watch?v=wSwSp2V2XdA
Some context:

Gumroad truly doesn't make much money on creators at the top current pricing tiers (2.9%, 3%, etc)

Nearly all of the fee from each sale goes to the actual processor.
But if the current Gumroad team was engaging in a truly long-term strategy, it would make sense to treat those large creators as loss-leaders, at least when it comes to transaction fees.
The creator economy is growing and maturing.

More and more creators are becoming true entrepreneurs, moving from relying totally on AdSense or sponsors to launching their own products, courses, and services.
The creators at the highest level are taste-makers; they have huge influence over which platforms get recommended to their up-and-coming peers and followers.
The harsh truth is that very few creators at the top level (6, 7, 8 figures/yr in revenue) are going to stomach a 12.9% fee on everything they sell.

Hence, they're likely not going to talk about or recommend a platform which charges a fee that high.
Creators don't want to have to tell their employees:

"Sorry, only Gumroad gets a raise this year"
So they're going to look at other options.

My feedback for Gumroad, if they're truly looking to optimize for the long term, is to find a way to make the platform worth it to the top-earning sellers.

Money is the short-term battle; hearts and minds is the long-term one.
I also don't believe they need to take an actual loss catering to top-earners.

The marketing on this might be clunky at first, but perhaps it makes sense to offer two pricing options:
1) A higher % fee to access everything

2) A competitive % fee on sales + a la carte fees for other features/a feature bundle

Maybe #2 is "Gumroad Pro"
Perhaps this two-prong strategy has been thoroughly simulated and found to be non-optimal.

It is true that too much choice can cause people to ultimately choose nothing and leave.

It's also true that I'm just a YouTuber and have extremely little experience as an actual CEO.
Still, I don't think putting such a large stake in the mud:

"We are not for you, large creators"

...is ultimately a good long-term strategy.
And regardless of what I think, competitors are doing exactly what I proposed above as option #2.

They charge bare-minimum processing fees, and then make money by charging reasonable prices for additional services.
Paying a % fee for services like landing pages and email marketing just doesn't make sense if you're doing volume.

I can't justify paying $10,000/mo for the same landing page tool someone else pays $5/mo for.

Not when I can pay $50/mo flat for my WordPress site.
So that leads us to the question you're likely asking (if you don't work for Gumroad):

"Where do I go from here?"

Here's a non-exhaustive list of choices:
First, I'll mention that Gumroad still might be for you.

The fact remains that Gumroad is an established player with quite a bit to offer.

The most important thing they offer is EASE; it's very easy to get started.
It took me literally 8 years to start selling my own products.

That was mostly due to analysis paralysis. I kept trying to find the perfect stack of tools, hoping to eke out a little every last drop of value... once I ~eventually~ got started.

But then I didn't start.
We've had a very good year selling our
@NotionHQ
templates:
But for years before that, I had 0 products to sell.
This is your reminder to get started early. Pick the tool that helps you move fast.

Learn quickly, get experience and feedback, and optimize later. You can tweak things as you go.
All that said, here are some potential alternatives.

I cannot vouch for any; as of now, I'm still on Gumroad and will stick around for at least the next month to see how things play out.

Gumroad has been very good for my team and me, and maybe this feedback does something.
It's also worth noting that you can run a paid newsletter (a la Substack) through ConvertKit Commerce. (Substack charges 10%)
convertkit.com/paid-newsletter
In fairness, it's also worth noting that ConvertKit (and many others) don't let you build an affiliate program. Gumroad does.

(However, cancelling my affiliate program would cost me less than sticking with gumroad, by far)
Another option is
@circleapp
; which I have actually tested.
I use Circle for my community, but you can also sell through it.
Fee is 0.5-4% depending on your plan, plus CC processing fees.
Notably, they natively support courses.
circle.so/
3.
@lmsqueezy
seems to be a true Gumroad alternative.
They charge 5% + $0.50, and then charge a separate monthly fee for email marketing (in line with what I suggested above).
Others:

Shopify, Etsy, Payhip, Sellfy, SendOwl, Paddle, Kajabi, Podia, Teachable for courses, etc.

Some of these are detailed here by @marcuscelestin_:

There are also more DIY tools like ThriveCart and WooCommerce.
These require a lot more setup, so I don't recommend them for beginners (having gone through my own fiddling and analysis paralysis).
You can also get techy and do things directly through
@stripe
.
I do think it makes sense to split the services you use into different platforms at a certain level of volume/sales.

Doing so adds redundancy. If your site, sales engine, email list, etc are all on one service, your entire business can go down in one fell swoop.
I currently use separate services for domains, website hosting, community, email, and checkout.
Keeping your domain separate is particularly good to do; in a pinch, you can redirect people anywhere (I learned this from
@PatFlynn
years ago).
Also, regardless of where you sell, don't share direct links to your sales pages if you don't own the platform.

Use your own domain. Create URLs that redirect to the actual sales pages.

If you ever need to make changes, you can do so on the back end and leave your public links.
Gumroad makes their board meetings and roadmap public, so consider this my board-meeting comment.

I like Gumroad; I don't particularly want to leave.

But I also can't make a decision that's actively bad for my business.
Adding to this thread:

I'm currently working on a tool to help with comparing the costs of sales platforms and payment processors:



---
Recommended by
Recommendations from around the web and our community.