Entrepreneur, investor, and business magnate. He is the founder, CEO, and Chief Engineer at SpaceX; early-stage investor, CEO, and Product Architect of Tesla, In...
Entrepreneur, investor, and business magnate. He is the founder, CEO, and Chief Engineer at SpaceX; early-stage investor, CEO, and Product Architect of Tesla, Inc.; founder of The Boring Company; and co-founder of Neuralink and OpenAI. With an estimated net worth of around US$273 billion as of April 2022, Musk is the wealthiest person in the world according to both the Bloomberg Billionaires Index and the Forbes real-time billionaires list.Musk was born to a Canadian mother and White South African father, and raised in Pretoria, South Africa. He briefly attended the University of Pretoria before moving to Canada at age 17 to avoid conscription. He was enrolled at Queen's University and transferred to the University of Pennsylvania two years later, where he received a bachelor's degree in economics and physics. He moved to California in 1995 to attend Stanford University but decided instead to pursue a business career, co-founding the web software company Zip2 with his brother Kimbal. The startup was acquired by Compaq for $307 million in 1999. The same year, Musk co-founded online bank X.com, which merged with Confinity in 2000 to form PayPal. The company was bought by eBay in 2002 for $1.5 billion.
In 2002, Musk founded SpaceX, an aerospace manufacturer and space transport services company, of which he is CEO and Chief Engineer. In 2004, he joined electric vehicle manufacturer Tesla Motors, Inc. (now Tesla, Inc.) as chairman and product architect, becoming its CEO in 2008. In 2006, he helped create SolarCity, a solar energy services company that was later acquired by Tesla and became Tesla Energy. In 2015, he co-founded OpenAI, a nonprofit research company that promotes friendly artificial intelligence. In 2016, he co-founded Neuralink, a neurotechnology company focused on developing brain–computer interfaces, and founded The Boring Company, a tunnel construction company. Musk has proposed the Hyperloop, a high-speed vactrain transportation system.
Musk has been criticized for unorthodox and unscientific stances and highly publicized controversial statements. In 2018, he was sued by the U.S. Securities and Exchange Commission (SEC) for falsely tweeting that he had secured funding for a private takeover of Tesla. He settled with the SEC, temporarily stepping down from his chairmanship and agreeing to limitations on his Twitter usage. In 2019, he won a defamation trial brought against him by a British caver who advised in the Tham Luang cave rescue. Musk has also been criticized for spreading misinformation about the COVID-19 pandemic and for his other views on such matters as artificial intelligence, cryptocurrency, and public transport.
Show More
🧵Don't be fooled about the noise of the news that shareholders have approved the takeover bid of Elon Musk (no surprise!). The real news is what Twitter whistleblower Peiter Zatko, affirmed today in front of the US Senate Judiciary Committee
My new book, What We Owe The Future, is now available for pre-order!
It makes the case for longtermism, the view that positively affecting the long-run future is a key moral priority of our time.
Here's a thread about it...
🇬🇧
oneworld-publications.com/what-we-owe-the-future-hb.html
🇺🇸
basicbooks.com/titles/william-macaskill/what-we-owe-the-future/9781541618626/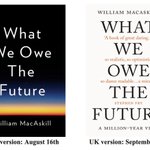 1/ We recently attempted to summarize what the
@krakenfx
culture has been over the past 11 years, and what we hope it continues to be.
We had a few heated debates and it turns out we have about 20 people out of 3200 who are totally not on board. 👇🧵
twitter.com/krakenfx/status/1536923296402288640
Some mantras for political thinking:

Truth is hard.

Humility is hard.

Independent thinking is hard.

Resisting tribalism is hard.

Over and over, you will forget that these things are hard, and that's probably when you'll fail at them.

1/5
Don't miss out curated content from your favorite people
Join to see curated content, recommendations and collections from your favorite people.
Find creators I follow