Tweet
My most powerful tool:

A Monthly Personal Board Meeting

I use it daily to help me manage and grow my portfolio of internet companies to $6M+ in 2023.

Here's the template:
Board meetings are common-practice at all major companies.

Why?

Because they serve as the accountability platform for:

• Current business performance
• Business growth + development

I decided the model was perfect for my Personal Board Meeting.
I use a Personal Board Meeting to keep me in check on:

• My vision
• My content
• Building true fans
• Building a life I am proud of
• Spending time with those I love

Here's how it works:
Step 1: Define Your 10-Year Goals
The process of setting 10-year goals is invaluable.
By envisioning your dream future, it teaches you:
• What are my core values?
• What is my dream daily routine?
• What are the topics/spaces I truly love?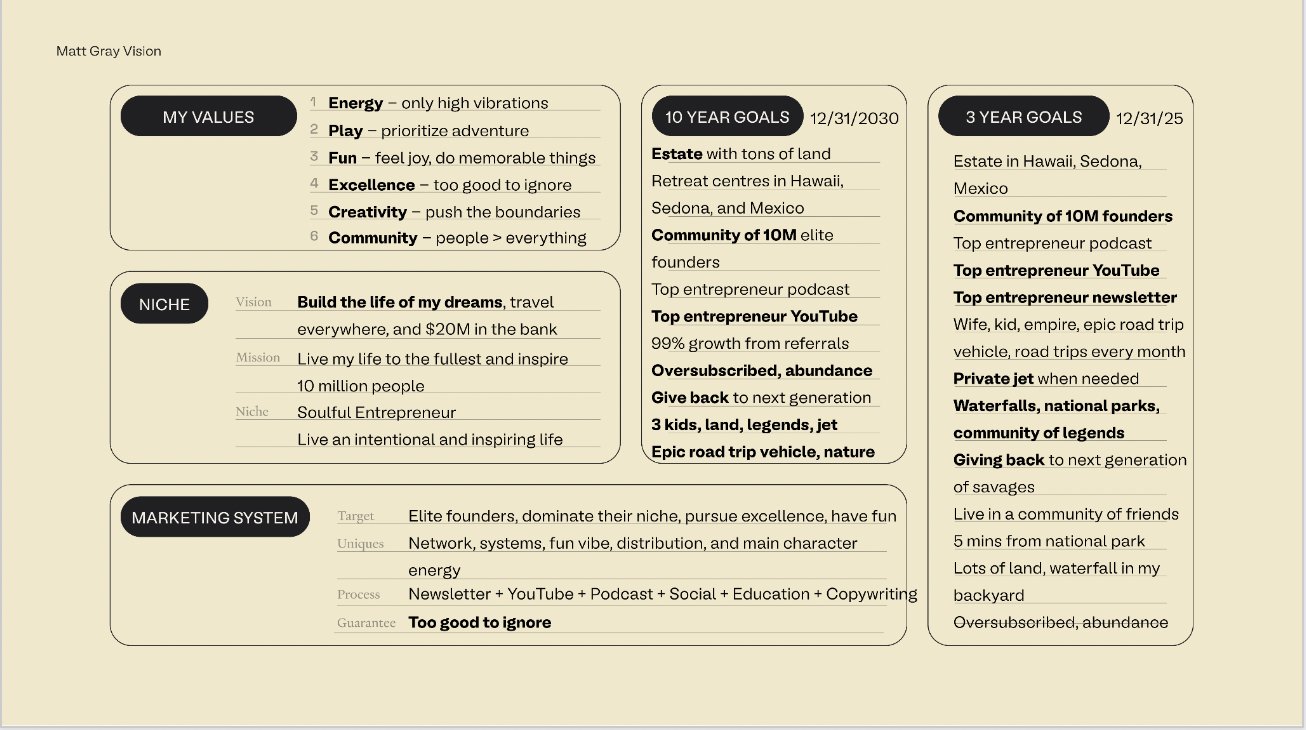 From this:

Your core values → Become your vision statement

You dream daily routine → Guide the systems you build

Your favorite topics/spaces → Serve as the niche you want to dominate
For me, my 10-year goals include:

• The ability to take epic trips with my kids
• Owning retreat centers for founders in Hawaii, Sedona, and Mexico
• Building the top entrepreneurship podcast + YouTube channel to give back knowledge to the next generation
Step 2: Create a 12-Month Plan

The 10-year goal exercise is aspirational.

The 12-month plan is all tangible execution.

I ask myself:

• What key hires do I need to make?
• What key products do I need to launch?
• What numbers do I need to hit to get to my goals?
Goals Are Cheap

Systems are where the rubber hits the road.

Systems separate the people who are winning the game from people who are playing the game.
My January Board Meeting Example
My 12-month targets are:
• 100K Newsletter Subscribers
• Audience at 1M (250K IG, 500K Twitter, 500K LinkedIn, 100K YouTube)
• 2,000 Founders graduated from Founder OS Program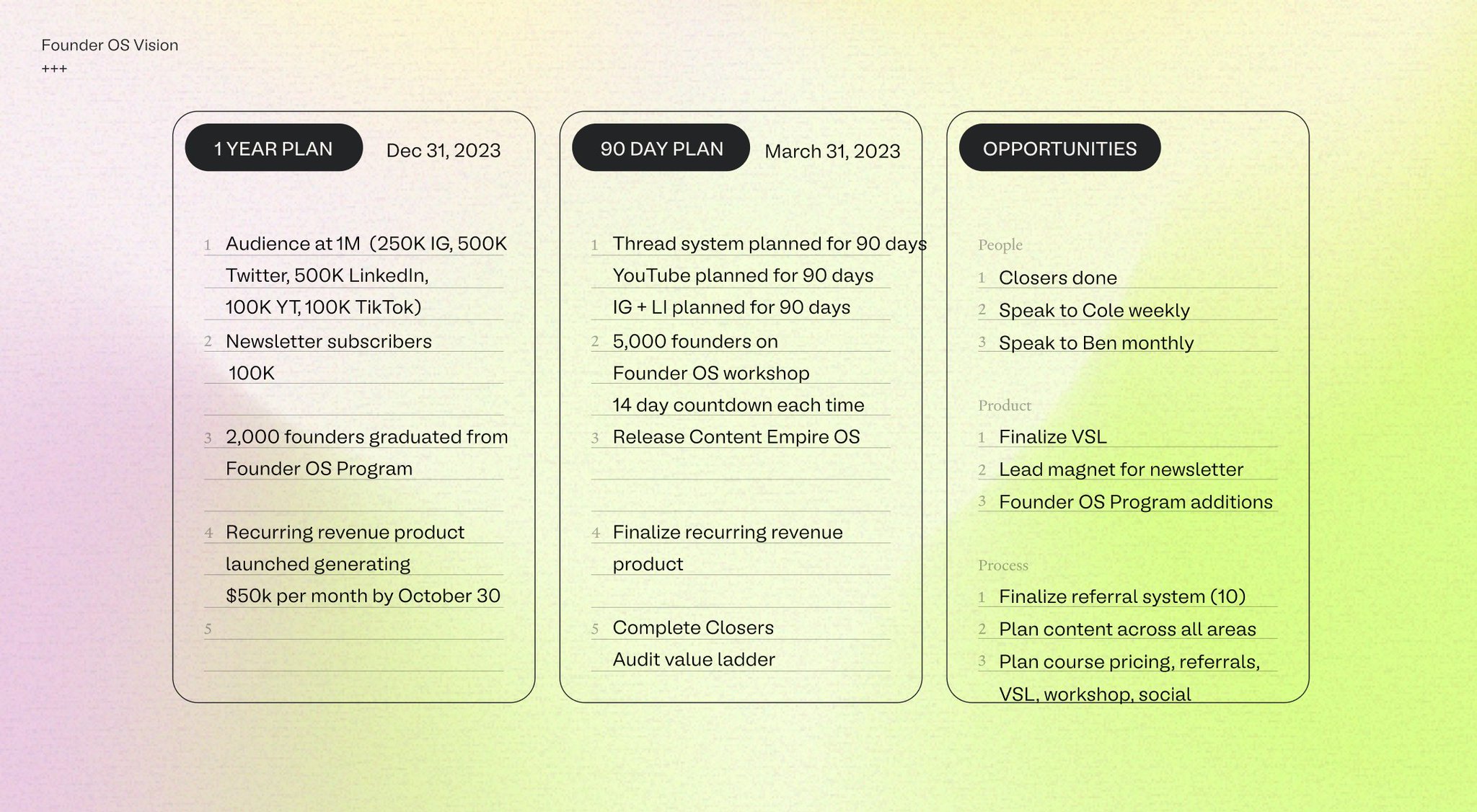 Here are the actions I planned for the next 90 days:
• Finalize my referral system
• Plan thread ideas / YouTube scripts for the next 90 days
• Funnel 5,000 founders to the Founder OS workshop
• Set up recurring calls with my content + sales mentors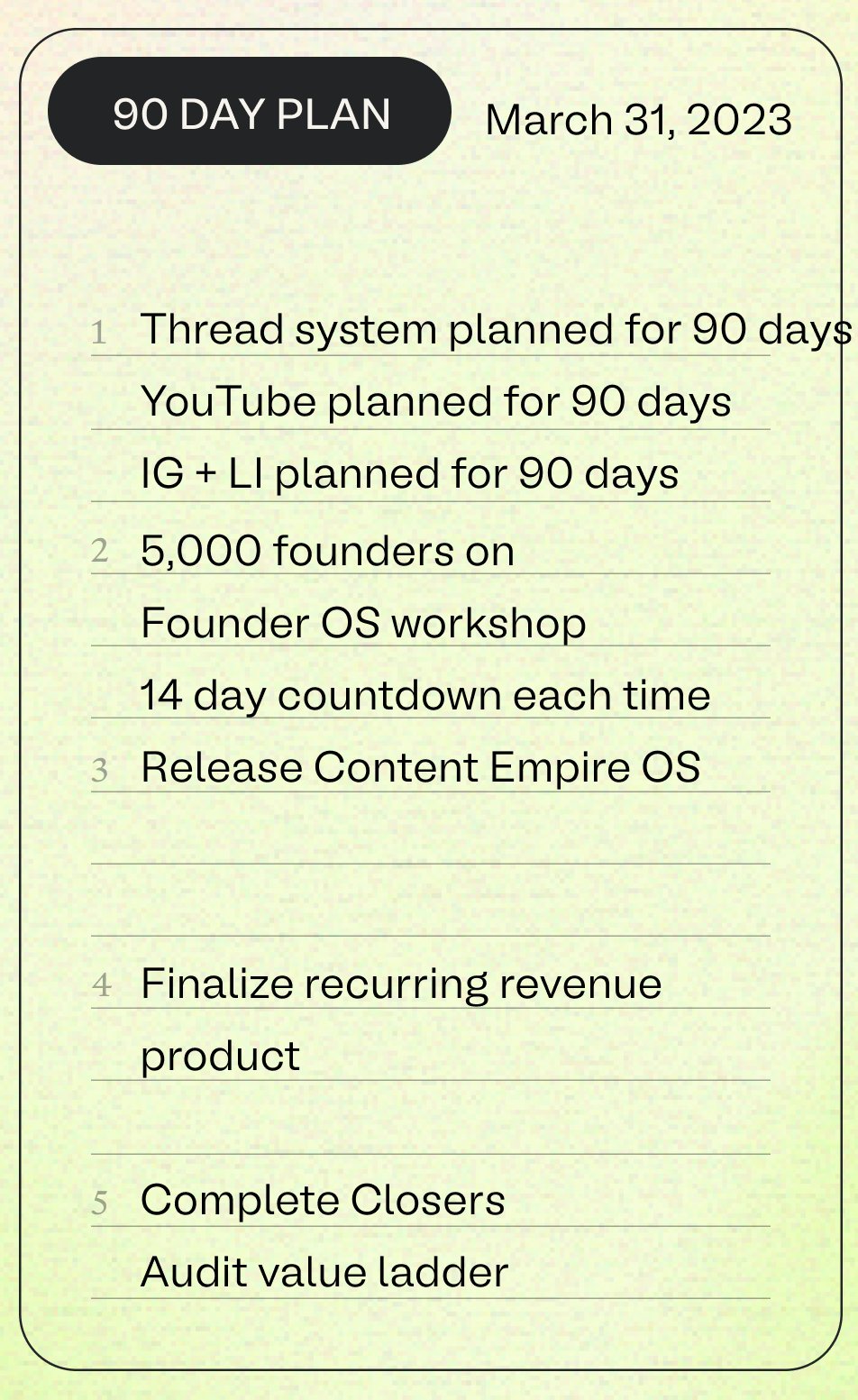 Step 3: Audit Personal Goals
The path to success is a marathon.
Slow down and enjoy the ride.
My own guidelines:
• Try 1-2 new things every month
• Test out 1 new habit every month
• Have 3-4 personal goals each month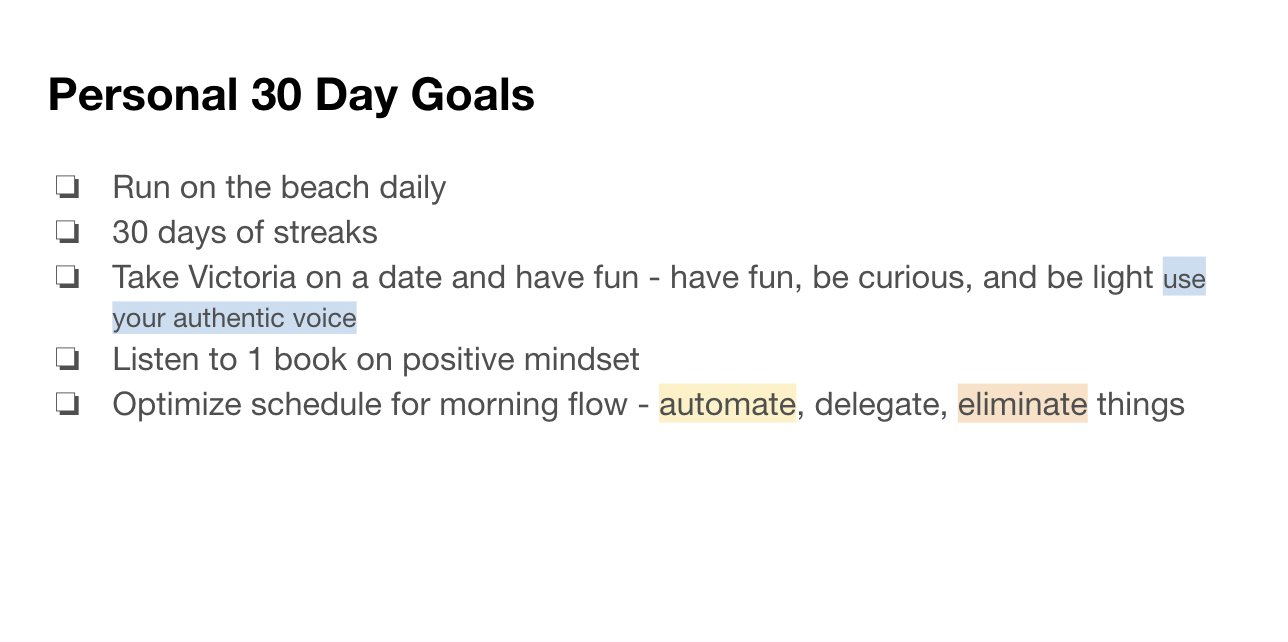 Step 4: Reflect and Recap

Here are the 3 key questions to help you reflect:

1. What went well?
2. What didn't go well?
3. What did I learn?
This is the highlight of the meeting for me.

It lets me capture:

• Big wins + progress
• Core takeaways + systems to double down on
• Core personal memories that I want to save

Pain + Reflection = Progress
Step 5: Identify Core Advisors
Every month, I try and evaluate what areas of my business need support.
Then I execute this process:
• Find 3-4 people laser-focused on the space
• Make an intro + identify if I can help them
• Exchange notes / get an audit on my problem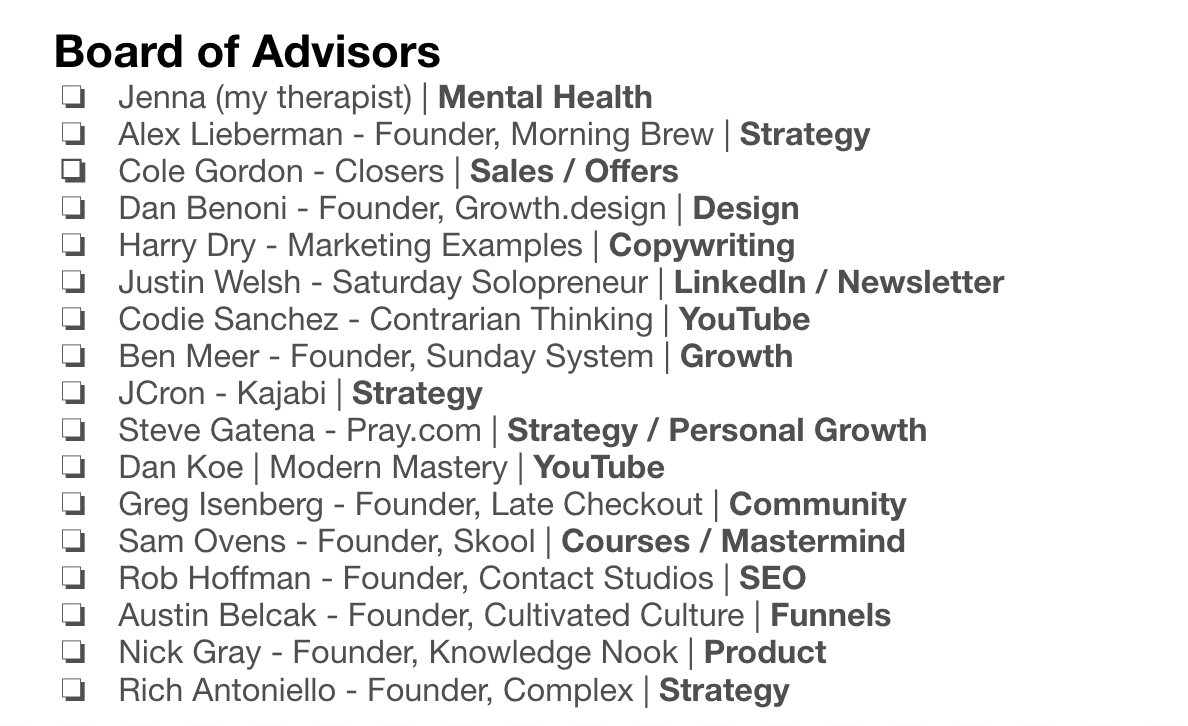 Want to go deeper?
I run a (free) Workshop on 5 Proven Steps to Build a Successful Personal Brand & Huge Audience in 24 hours.
I'll be giving away a $149 Audience Growth Guide for free.
I'd love to see you there 👇
www.mattgray.xyz/registration-page
Thanks for reading! Follow me
@matt_gray
_ for more content like this.
---
Recommended by
Recommendations from around the web and our community.
You might also be interested in

Podcast episode

Mar 22, 2023