Thread by Trung Phan: Read a great Reddit thread putting historical dates in perspective. Here are 8 gems. 1/ The moon landing was only 66 years after the Wright Brothers first flight (1903-1969). Within a lifetime, humans went from having limited flight tech to trave
Tweet
Read a great Reddit thread putting historical dates in perspective.

Here are 8 gems.

1/ The moon landing was only 66 years after the Wright Brothers first flight (1903-1969). Within a lifetime, humans went from having limited flight tech to travelling ~239k miles from Earth.
2/ On a related note, Cleopatra (b. 69 BC) lived closer in time to the moon landing (1969) than the construction of the pyramids (~2500 BC).
In fact, some wooly mammoths still roamed the earth when the pyramids were being built.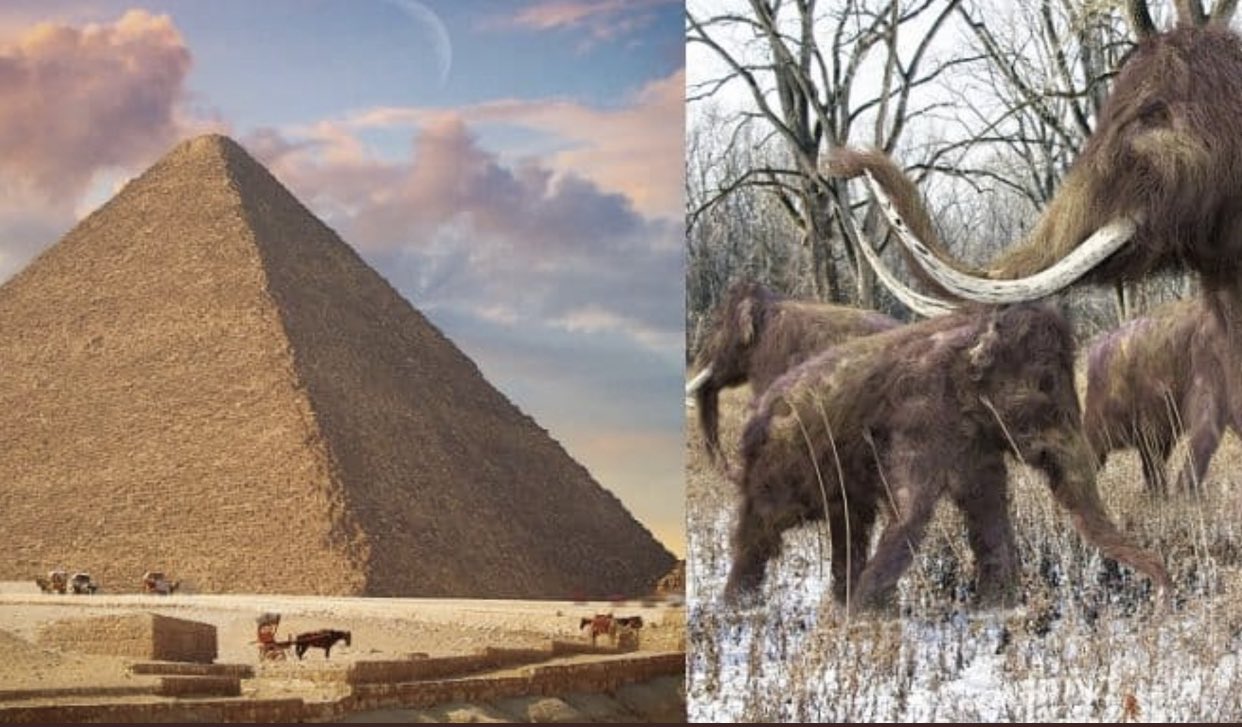 3/ A really well-travelled person could have potentially met Socrates (470-399 BCE) Confucius (551-479 BCE) and Buddha (563-483 BCE).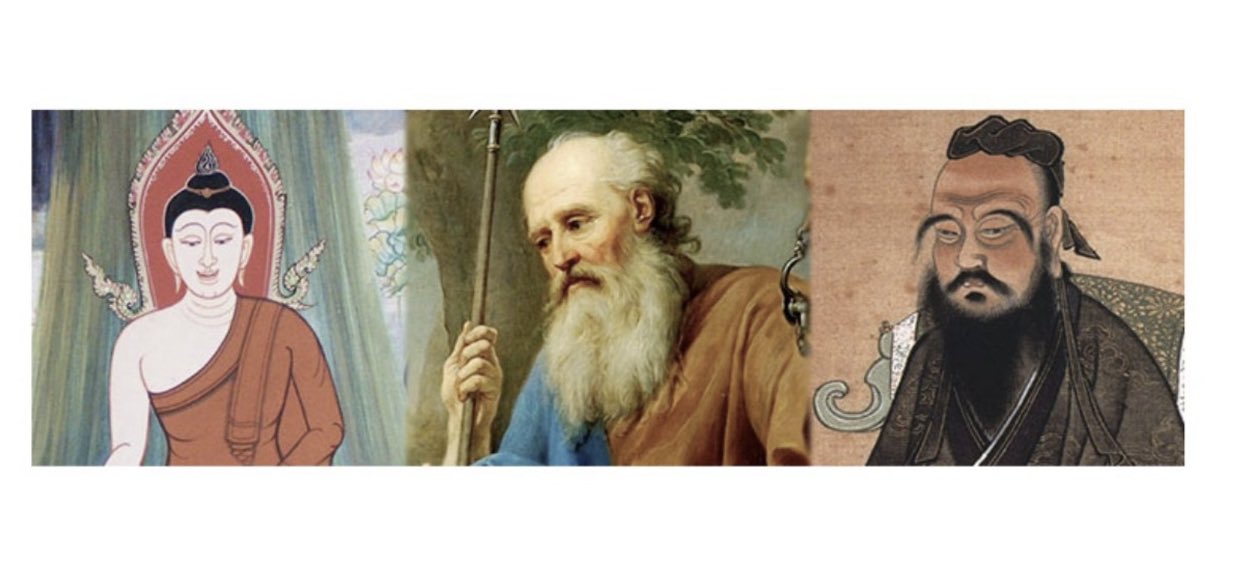 4/ Oxford University (1096) is older than Machu Picchu (1450), and it's not even close.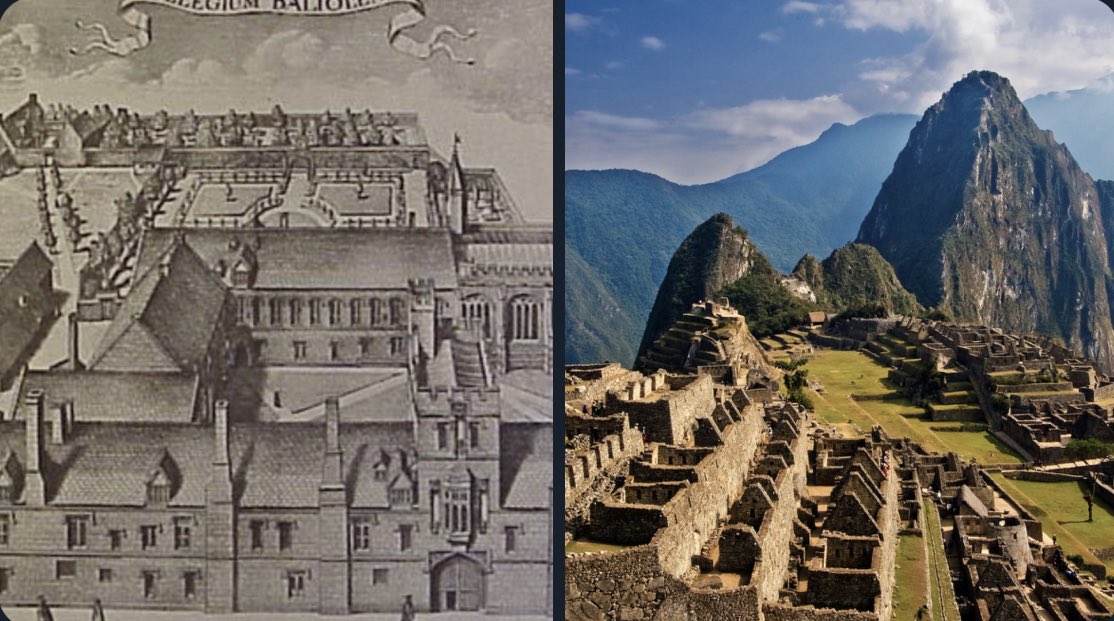 5/ Harvard University was founded in 1636, decades before Isaac Newton developed calculus (mid-1660s).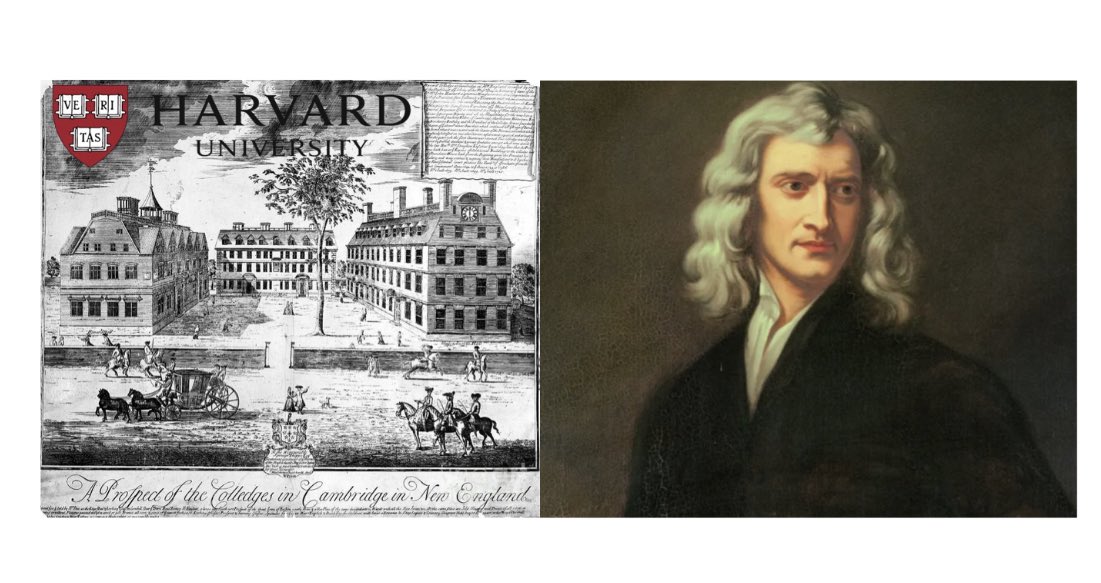 6/ J.R.R Tolkien (The Lord of The Rings), Otto Frank (The father of Anne Frank), and Adolf Hitler where all present as foot soldiers at the battle of the Somme (1916).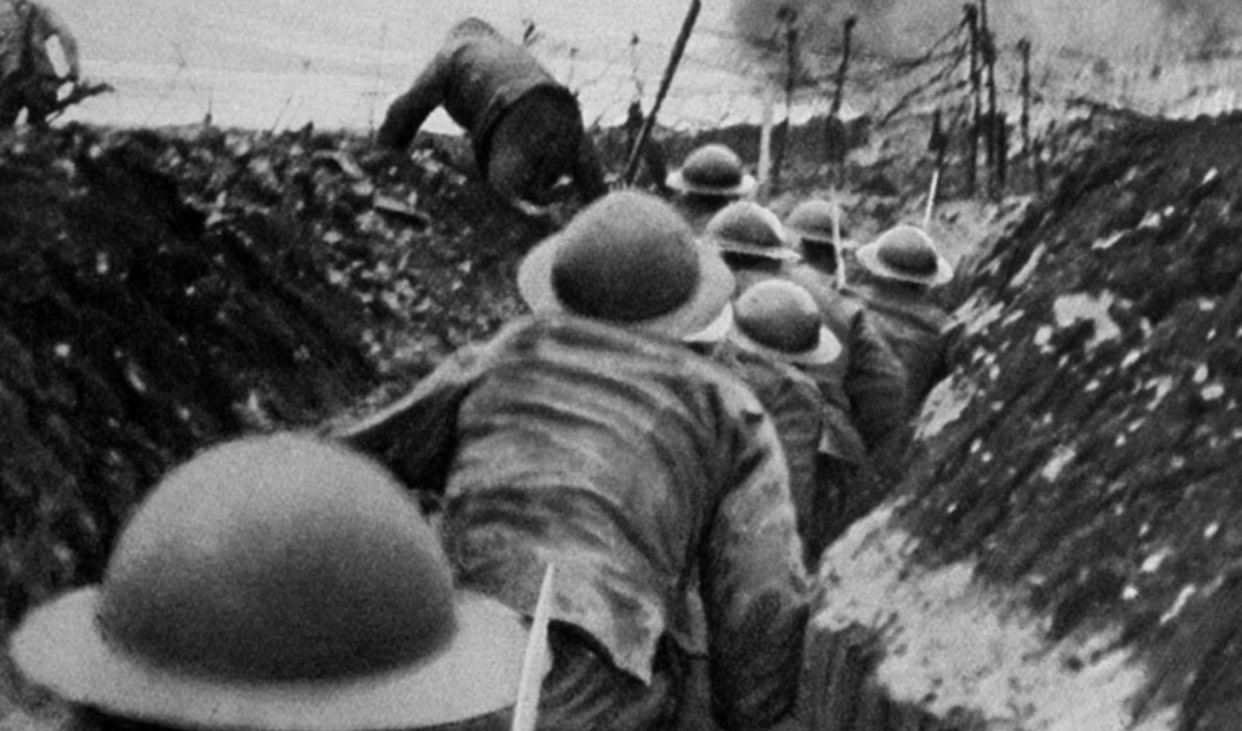 7/ People began actively traveling the Oregon trail (1843–1869) when the fax machine was invented (1843).
8/ While Hannibal was crossing the Alps into the Roman Empire with elephants, the Great Wall of China was in its initial construction phases.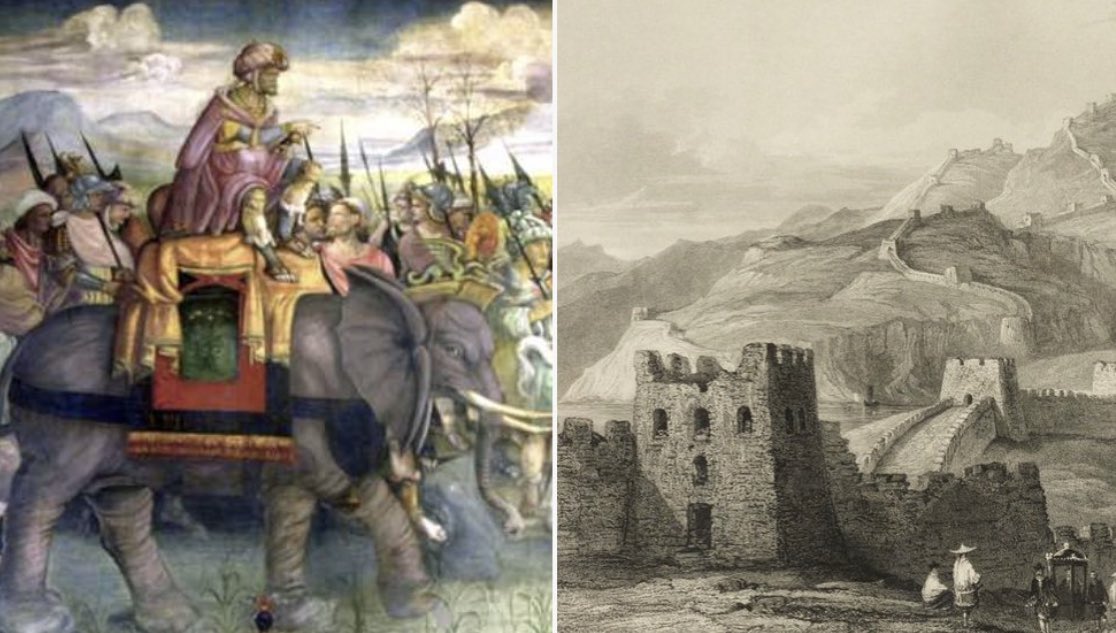 PS. If you're like me and consume a ton of content, check out the AI-powered research app I'm building that supercharges your:
• Reading (instant summaries)
• Writing (rewording, grammar correction, auto-generated text)
Try it free:
bearly.ai
Three other good "historical dates in perspective" nuggets:
www.reddit.com/r/history/comments/67vkiu/what_are_your_favorite_historical_date/?utm_source=share&utm...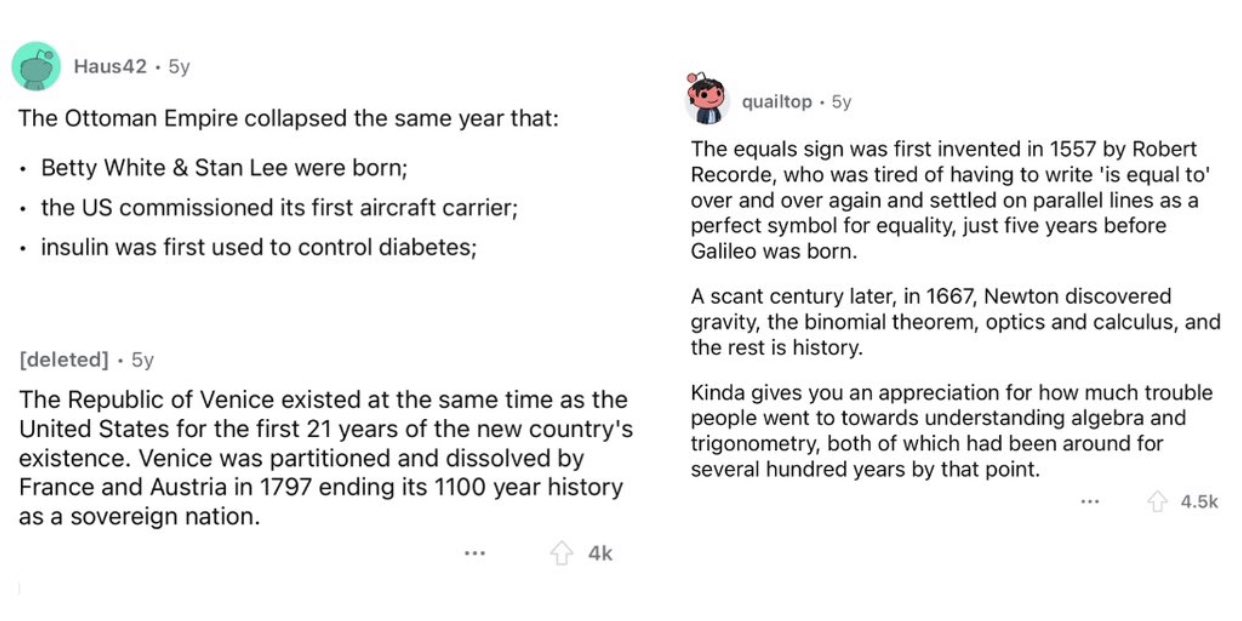 Good read!

To further put the 1969 moon landing into perspective, look at Apollo 11's Apollo guidance computer (ACG).
Compared to ACG:
▫️a TI-73 calculator has 140x the processing power
▫️an iPhone 11 has 100,000x the processing power and 7,000,000x the memory
🔗
www.realclearscience.com/articles/2019/07/02/your_mobile_phone_vs_apollo_11s_guidance_computer_111026...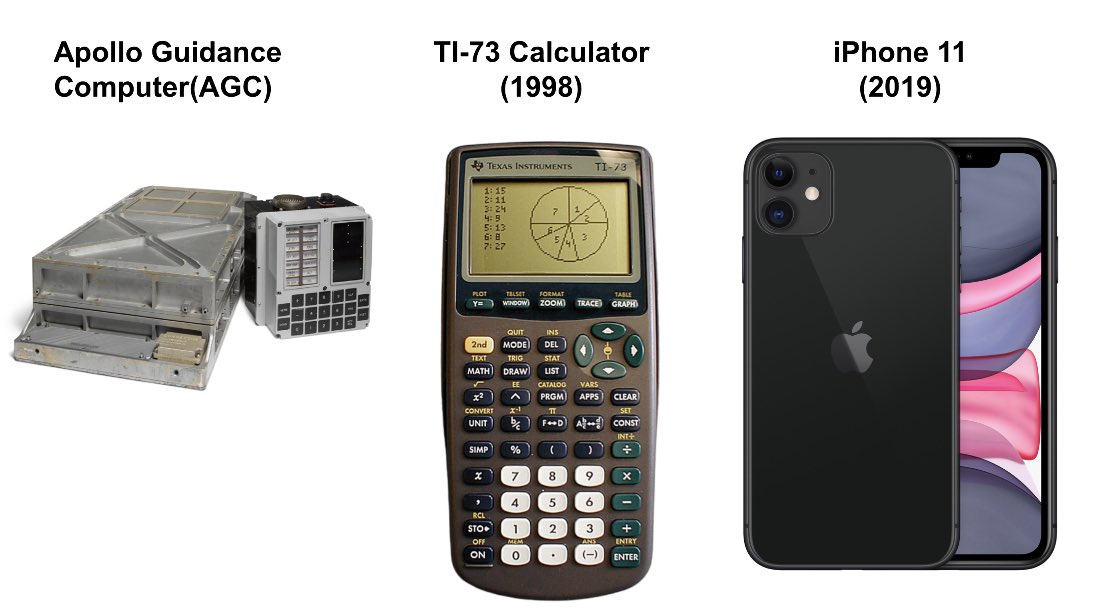 A lot of replies note that Gore Vidal's 1981 book "Creation" is about someone who "travels the known world (6th-5th BCE) comparing the political and religious beliefs of various empires".
The protagonist meets Buddha, Confucius and Socrates.
🔗
en.wikipedia.org/wiki/Creation_(novel)?wprov=sfti1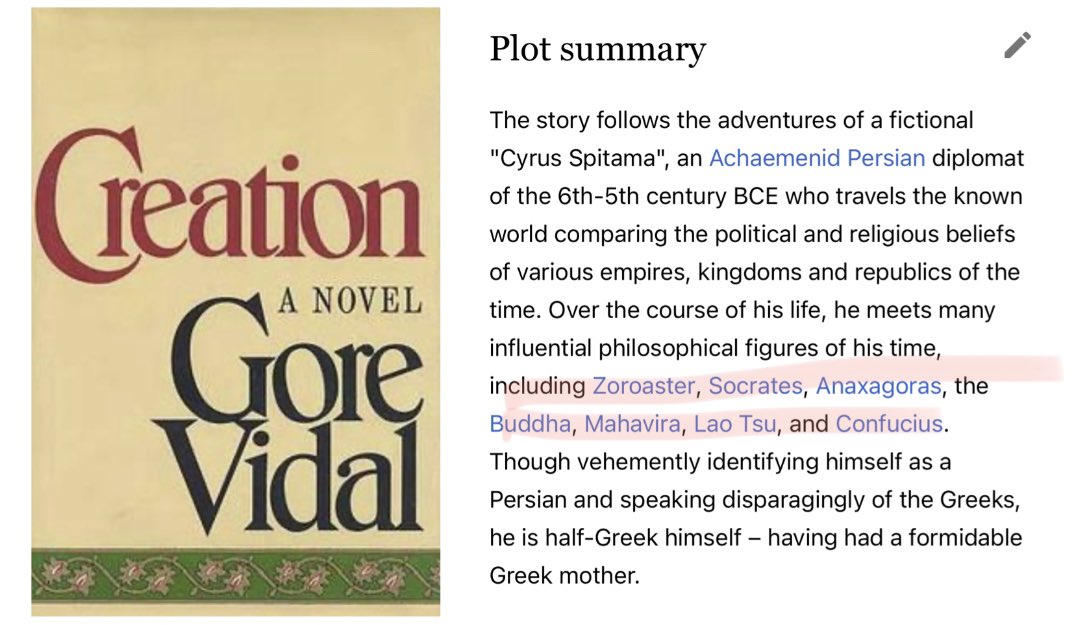 ---
Recommended by
Recommendations from around the web and our community.