Thread by Why You Should Join: @mutinycorp is leading a revolution in marketing tech. They're building a generational company in the process. Here's Why You Should Join Mutiny: a thread 🧵
Tweet
@mutinycorp
is leading a revolution in marketing tech. They're building a generational company in the process.
Here's Why You Should Join Mutiny: a thread 🧵
Over the next four years, the world is projected to spend $3.7 trillion on digital advertising. Shockingly, though, 19 out of every 20 dollars spent on ads will never convert to revenue.

The reason?

While ads have gotten increasingly personalized, their destinations haven't 😬
Generic websites don't resonate. Generic websites don't convert.

Mutiny solves this ✅
In the milliseconds it takes for a visitor to open your site, Mutiny identifies that user and personalizes the site (changing headlines, swapping images, modifying buttons) to help them better understand your product/service.

This is game-changing for two reasons:
1. Higher Revenue 📈
Personalizing your website makes it easier for users to see why they should buy. Mutiny has already helped
@cartainc
to increase seed stage signups by 80%,
@livestormapp
to increase enterprise leads by 205%, and
@brexHQ
to triple their signups.
2. Lower Overhead 📉
Mutiny's no-code platform lets you do this without hiring a bunch of growth engineers and data scientists — saving companies millions of $$$
With all that, it's no surprise their usage graph looks 🏒🏒🏒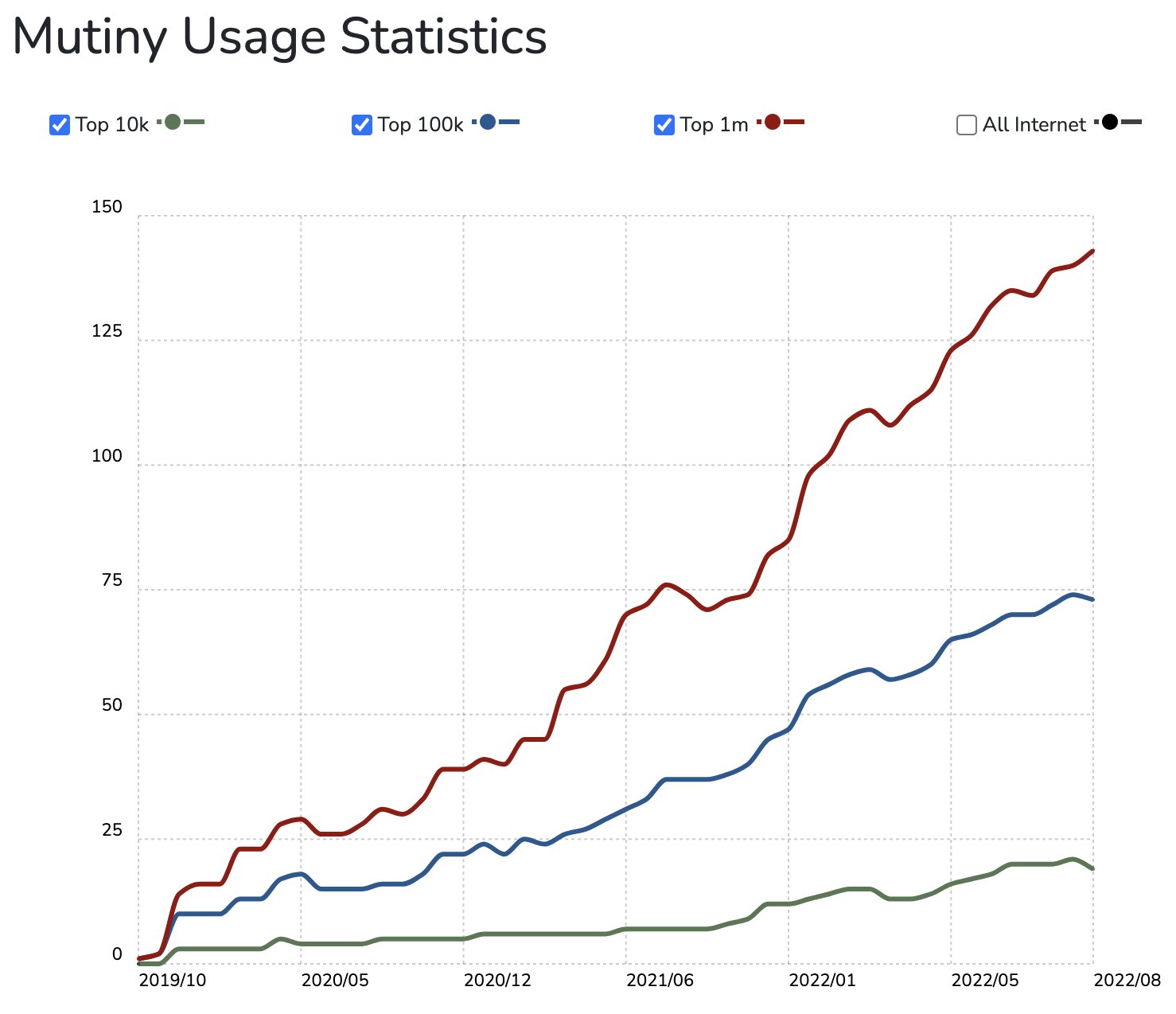 Mutiny's operating market is HUGE.

Global marketing software spend will grow at a CAGR of 14.1% to reach 181.0 billion by 2023.

Website personalization was the number one digital marketing investment made by businesses last year, with 73.8% of companies participating.
Why?

Personalization can reduce acquisition costs by as much as 50%, lift revenues by 15%, and increase marketing efficiency by 30%.

75% of business leaders consider personalization "table stakes" for digital experiences.

This means Mutiny = 💵 🖨️
Best of all, Mutiny's going to dominate this market. Three reasons why:
1. They've got the best product

Mutiny packs GPT-3, crazy RL algorithms, and cutting-edge growth engineering techniques into a neat little box.

For marketers, it's like upgrading from your fists 🤜 to a rocket launcher 🚀
2. They've got the best distribution

To sell, Mutiny's built:
- A killer demo (check their website).
- A massive community of ambitious, experienced marketers (check their website).
- 30+ conversion playbooks that have racked up a couple million views (check their website).
3. They've got the best team
Mutiny's founders,
@jalehr
and
@nikhil_mathew
, have done this before.
While leading
@GustoHQ
's growth engineering team, they 100x'ed ARR and took the company from a 100 million dollar valuation to a 10 billion dollar one.
We've seen this story before.
We saw
@klaviyo
($9.5B) do this with email marketing.
We saw
@attentiveHQ
($2.2B) do this with SMS marketing.
Now, it's Mutiny's turn to do it with websites.
---
Recommended by
Recommendations from around the web and our community.