Thread by TheCivilWarDoc: This photograph of Silas Chandler (right) and Andrew Chandler (left) has been used by Neo-Confederate groups to perpetuate the Black Confederate myth for decades. The following is a 🧵 about who Silas Chandler was and the truth behind this image. twit
Tweet
This photograph of Silas Chandler (right) and Andrew Chandler (left) has been used by Neo-Confederate groups to perpetuate the Black Confederate myth for decades. The following is a 🧵 about who Silas Chandler was and the truth behind this image.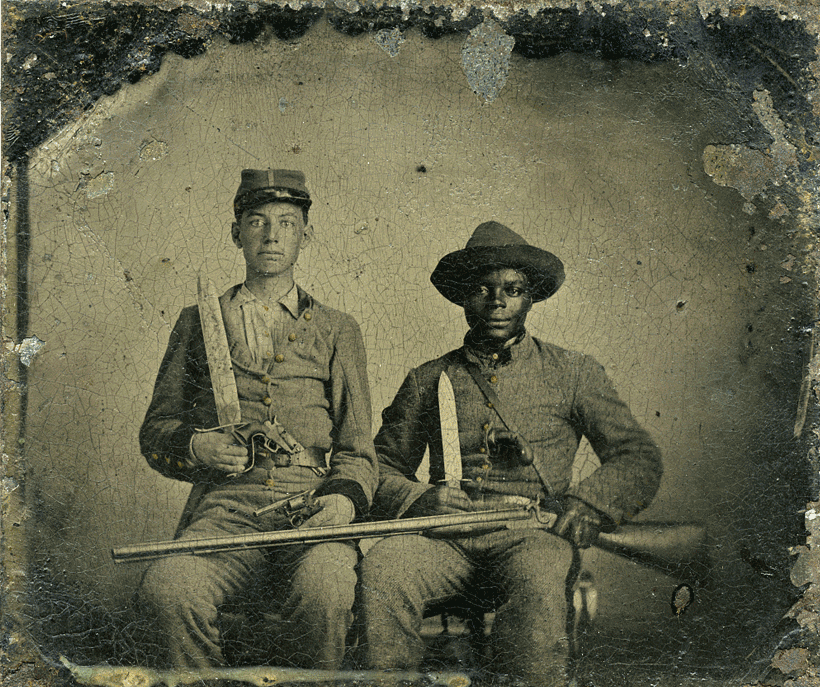 Silas Chandler was born on January 1, 1837, in Virginia and was enslaved by Roy Chandler. When Roy Chandler received a land grant in Mississippi in 1839 he moved Silas and 38 other enslaved people to a new plantation in Palo Alto, near the town of West Point.
Silas was trained as a carpenter and married an enslaved woman named Lucy Gardner in 1860. He was then forced leave Lucy to join Roy Chandler's son, Andrew, after he enlisted in the Confederate Army in 1861. The photograph is believed to have been taken around that time.
Neo-Confederates contend that Silas joined Andrew because of his belief in the Confederate cause, disregarding the fact that he was enslaved by Andrew and therefore had no choice.
Silas regularly traveled back to Palo Alto during the early years of the war under Andrew's orders. Andrew Chandler was wounded and captured by Union forces at the Battle of Shiloh in April of 1862 but was released in a prisoner exchange in September.
Silas was forced back into service as a "body servant" when Andrew returned to the 44th Mississippi Infantry. Andrew was wounded at the Battle of Chickamauga
#OTD
in 1863. Silas and Andrew returned to Palo Alto.
Neo-Confederates argue that Silas remained with Andrew out of loyalty and a belief in the Confederate cause, a cause that advocated his own enslavement. This is far from the truth. Silas stayed with Andrew for another reason.
By September 1863, Silas' wife Lucy had given birth to their first child. Silas most certainly followed Andrew to maintain contact with his family, not to aid the Confederate war effort. Unfortunately, Silas was separated from his family again in early 1864.
Andrew's younger brother Benjamin joined 9th Mississippi Calvary in January of 1864 and Silas was forced to join him. Silas remained with Benjamin until the end of the war.
Silas returned to Mississippi after the war. He and Lucy settled in the town of West Point and had 12 children together. Silas became a successful businessman. He and Lucy also helped found Mount Hermon Baptist Church in West Point on land they had purchased.
Silas was able to secure a pension later in life that listed him as an "Indegent Servant" of the Confederacy, not a soldier. Silas Chandler passed away in September of 1919 at 82 years old.
In 1994 the Sons of Confederate Veterans and the United Daughters of the Confederacy placed a metal cross on Silas Chandler's tomb. The cross was eventually removed following protests from Silas' descendants.
Silas Chandler's story continues to be distorted to support Lost Cause ideology today. Neo-Confederates perpetuate the myth of the Black Confederate soldier to minimize the role slavery played in causing the Civil War.
Whether pulling images and photos, helping research storylines, or creating great social media content, our researchers are committed to democratizing knowledge, and making this world a better place. Thank you so much for your support and please retweet and share!
By examining the extraordinary lives of everyday people (Like Silas Chandler) during an era that completely transformed the United States, "The Civil War and the Fight for the Soul of America" seeks to reveal that revolution happens one small step at a time. Join us!
---
Recommended by
Recommendations from around the web and our community.
You might also be interested in