Thread by Alex Garcia: MasterClass used SEO to build a $2.7B education empire. Here's how:
Tweet
MasterClass used SEO to build a $2.7B education empire.

Here's how:
First, the SEO stats behind this empire:

11.2M Monthly Visits
$4.4M In Monthly Organic Traffic Value
601K Backlinks
49.3K Referring Domains

This makes search their number one source of traffic.

But the key is how they optimize this traffic based on search itnent.
Search intent is the "why" behind any search query.
By understanding the "why" you can map out "how" to drive action.
But, every person who performs a search on Google is searching for one of four things:

Behind the "why" there are specific keywords.
Use this table to understand which keywords fuel the individual's intent: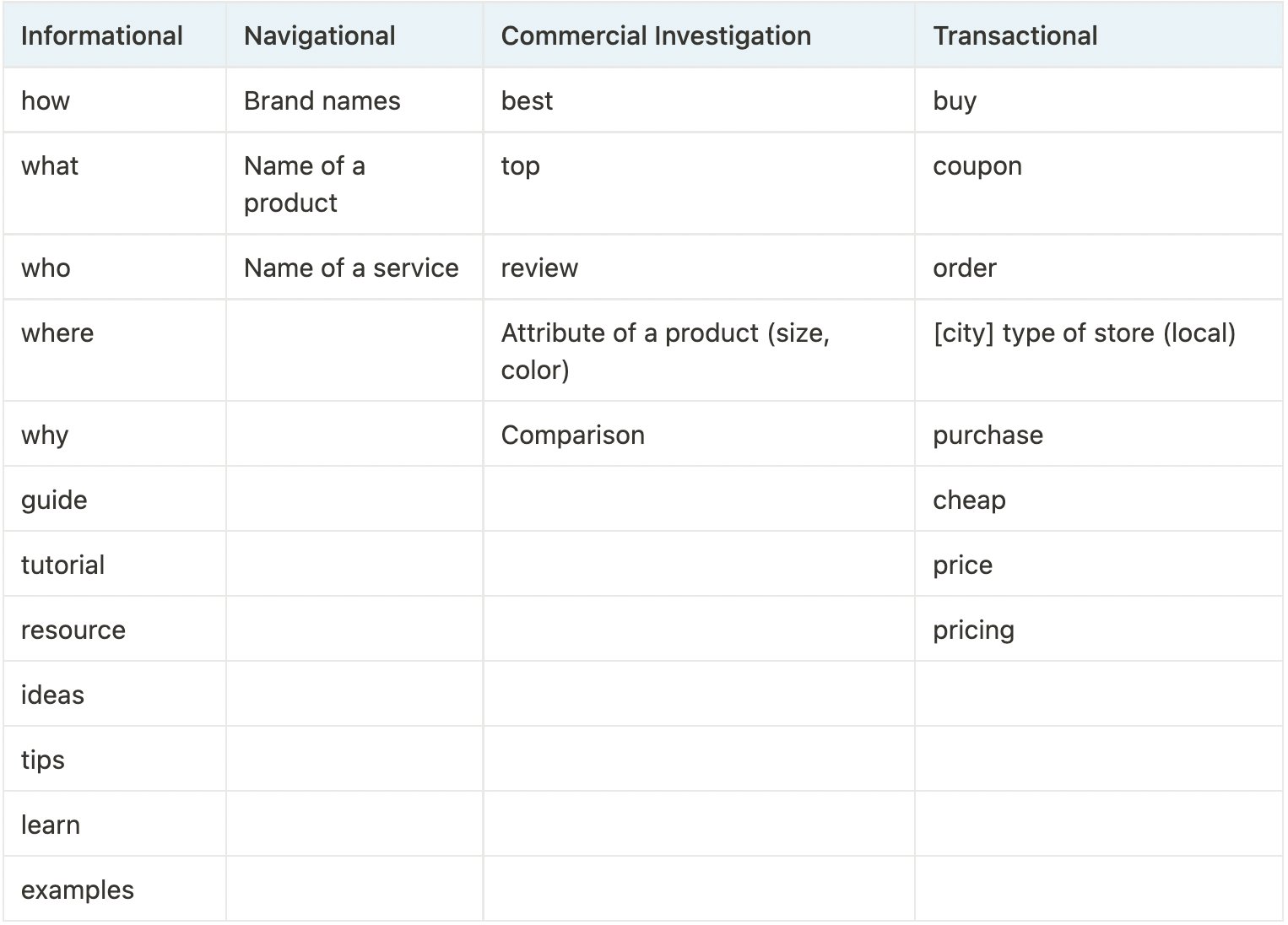 A look at their top pages on Ahrefs shows that outside of their Home Page every top page meets the informational intent of the user: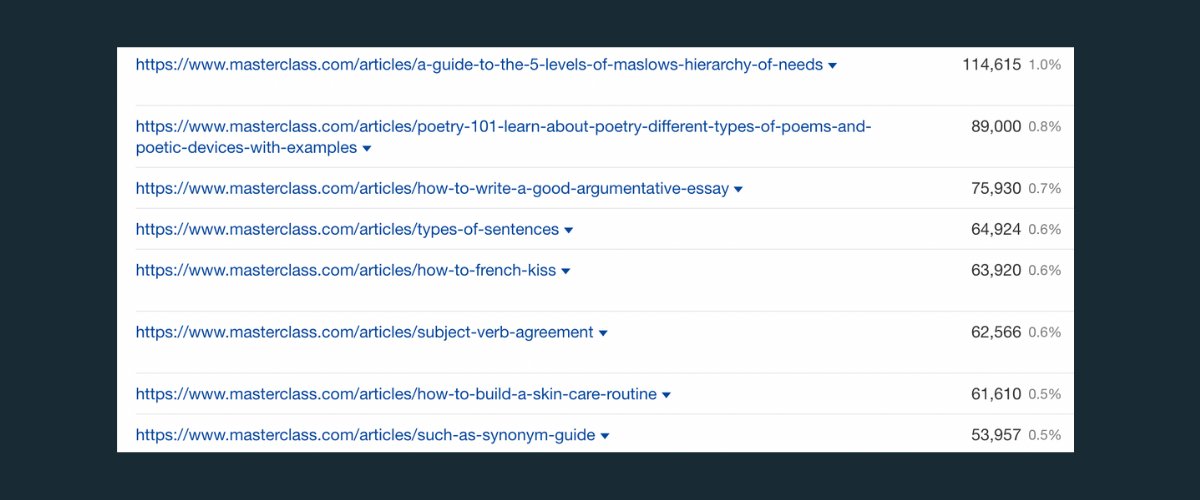 To optimize this Masterclass creates articles that help the user get things done with articles that provide them with the right information to do so.

And they have 10,000+ articles doing this.
Masterclass bridges each article to a specific course, taught by a specific instructor, centered around the topic that relates to the information they were looking for.
Because the extension of the right information is the right product.

So, every information-dense article is linked to a scaled version of information — a Masterclass Course.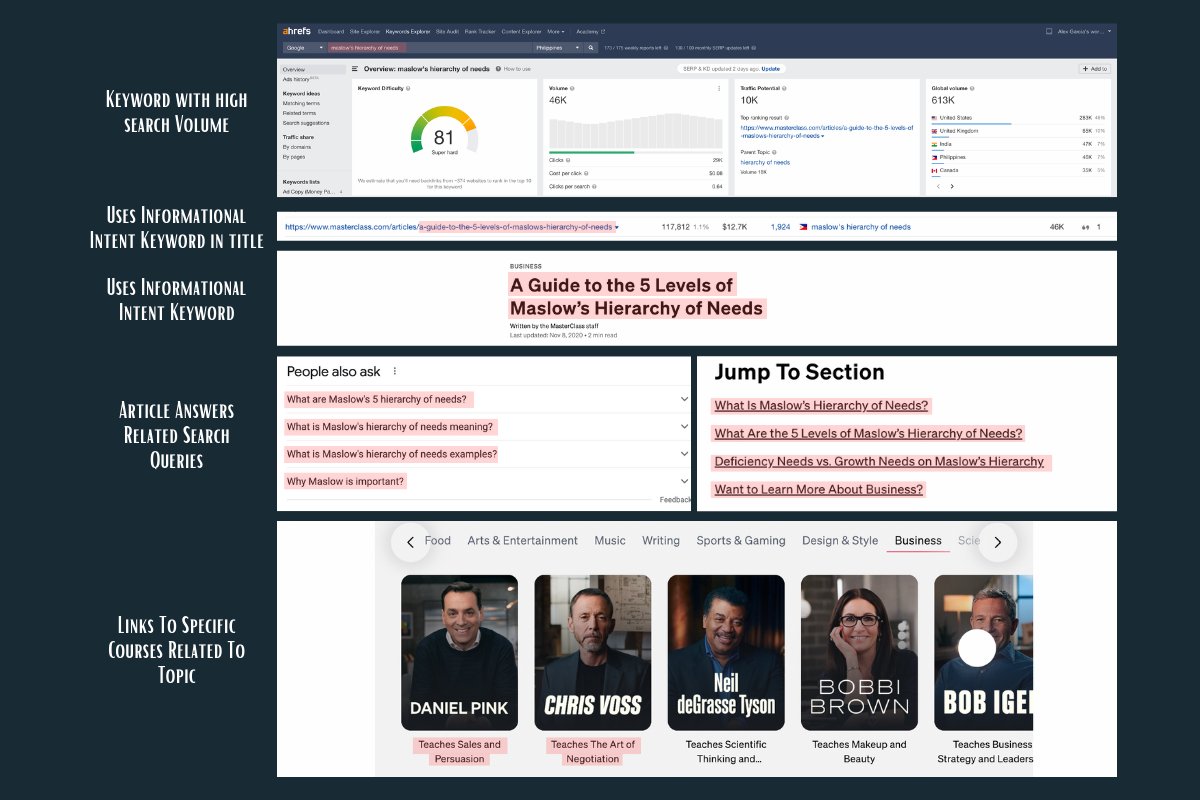 So, here's where we're at:

They searched for specific information.

They clicked a specific course because of it.

This journey just took a consumer from problem-aware to product-aware.

But they didn't buy…

This is where the magic happens.
Masterclass retargets each individual across Youtube, Facebook, and Instagram with specific creative related to the course they showed initial interest in.
Here's how it works:

If this helped you then I think you'll enjoy my newsletter centered around growth marketing :)
30k+ marketers, founders, and creators get these case studies in their inbox every Thursday...
And they take 3 minutes to read.
Then you can join them here:
marketingexamined.com/subscribe/
Plus, if you want to follow me
@alexgarcia_atx
then expect hella growth marketing content on your feed.
Threads to come:
- copywriting
- ad development
- landing page development
- newsletter optimization
Appreciate y'all!
Putting it all together:

Here's another one for y'all.

A bunch of resources and reads:



---
Recommended by
Recommendations from around the web and our community.
You might also be interested in