Thread by Tom Bridges: 1. Another blogpost on Investment Zones, setting out what places can do to maximise their success. #investmentZones 🧵 www.linkedin.com/pulse/investment-zones-maximising-success-tom-bridges?utm_source=share&utm_medium=me...
Tweet
2. I wrote recently that refocusing IZs around innovation and clusters was really positive. Having now read the guidance that view is confirmed: this is a farsighted, serious policy initiative with significant £ attached, & a huge opportunity for places.
www.gov.uk/government/publications/investment-zones
3. The refocused InvestmentZones are "aimed at catalysing a small number of high-potential clusters in areas in need of levelling up to boost productivity and growth." Each of the Mayoral Combined Authorities in the Midlands and the North of England invited to submit proposals
5. But it will be important for places to get the specific proposals for IZs right. I suggest five main things to consider.
6. First, identify the right locations and sector focus. The "core" spatial focus should be in the place with real research and cluster strength, with a focus on 1 of 5 priority sectors (digital, life-sciences / med-tech, creative, green industries, advanced manufacturing).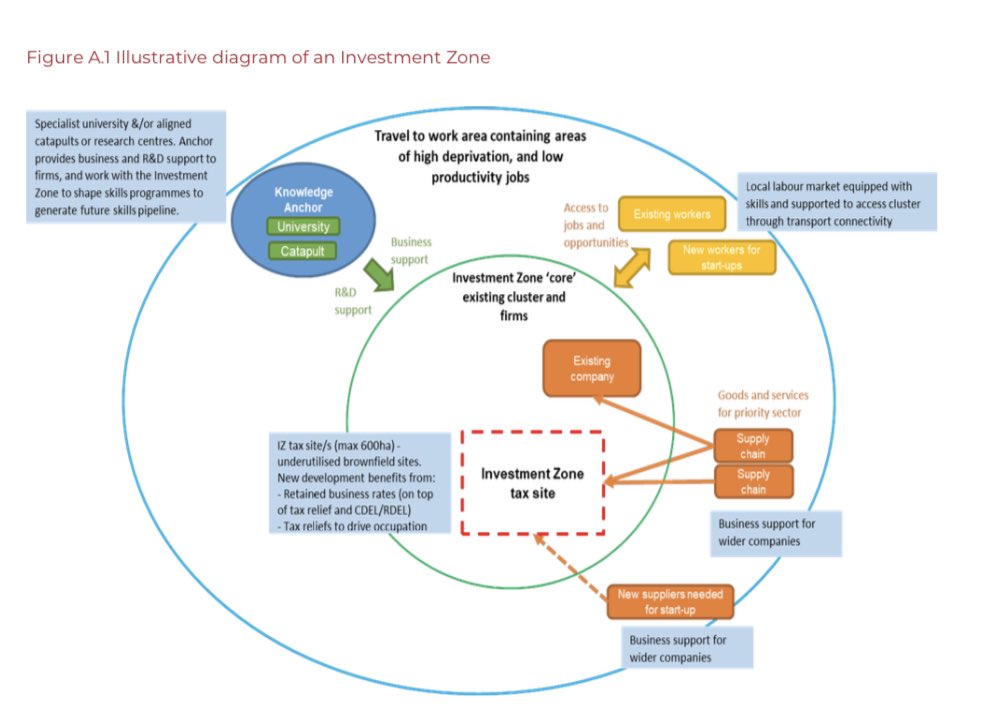 7. This all points to the need to be hard-headed and evidence-based in identifying genuine sector strengths, and the locations with the strongest research capabilities and greatest scope to crowd-in private sector investment.
8. This is likely to point towards the innovation districts in centres of core cities, as well as linked sites that have capacity& potential for large scale job growth in functions like manufacturing or some lab space that are not always possible to develop in city centres.
9. The guidance does also highlight the importance of links between sectors. The reality is the economic strength/ potential of successful cities comes from a related diversity of knowledge sectors.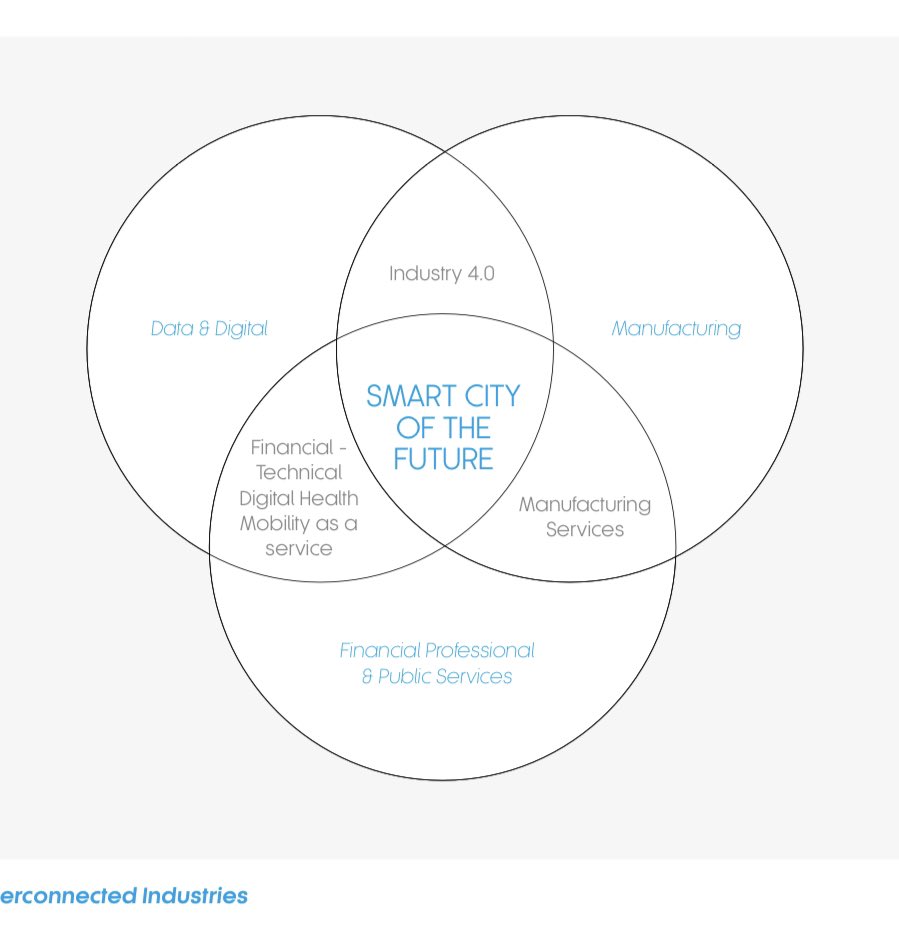 10. Looking beyond the "core areas" places should set out how wider supply chains, skills and opportunities can be created across wider functional economic areas. Interventions could include business support and innovation initiatives, education collaborations and skills.
11. 2️⃣ Second, get the mix of fiscal incentives and Government spending right. Places can access incentives & flexible gov funding of £80m over 5 years (40% revenue!) to support initiatives such as R&I, skills, local infrastructure, enterprise and planning and development.
12. Care will be needed in formulating the package of fiscal 💴 incentives (worth up to £45m over 5 years, but crucially this comes out of £80m £ envelope).
13. My own view:

Businesses rates 📈 retention can create useful local revenue stream to finance investment

ECAs good for capital intensive investment, i.e. 🧬 🏭

Wider alignment of government spending 🧩big prize (BTW Innovation Accelerator initiative should be extended)
14. 3️⃣ Places should introduce faster planning, not less planning, and focus on increasing the supply of the right types of commercial space. Clear & flexible spatial frameworks provide greater certainty to investors. Design codes also help ensure quality.🗺️
16. 4️⃣ think beyond bricks & mortar. Focus on softer ecosystem. A positive feature of the IZ Prospectus is emphasis on Government at all levels working with the private sector, universities and other research institutions, as we identified in our Innovation Districts work.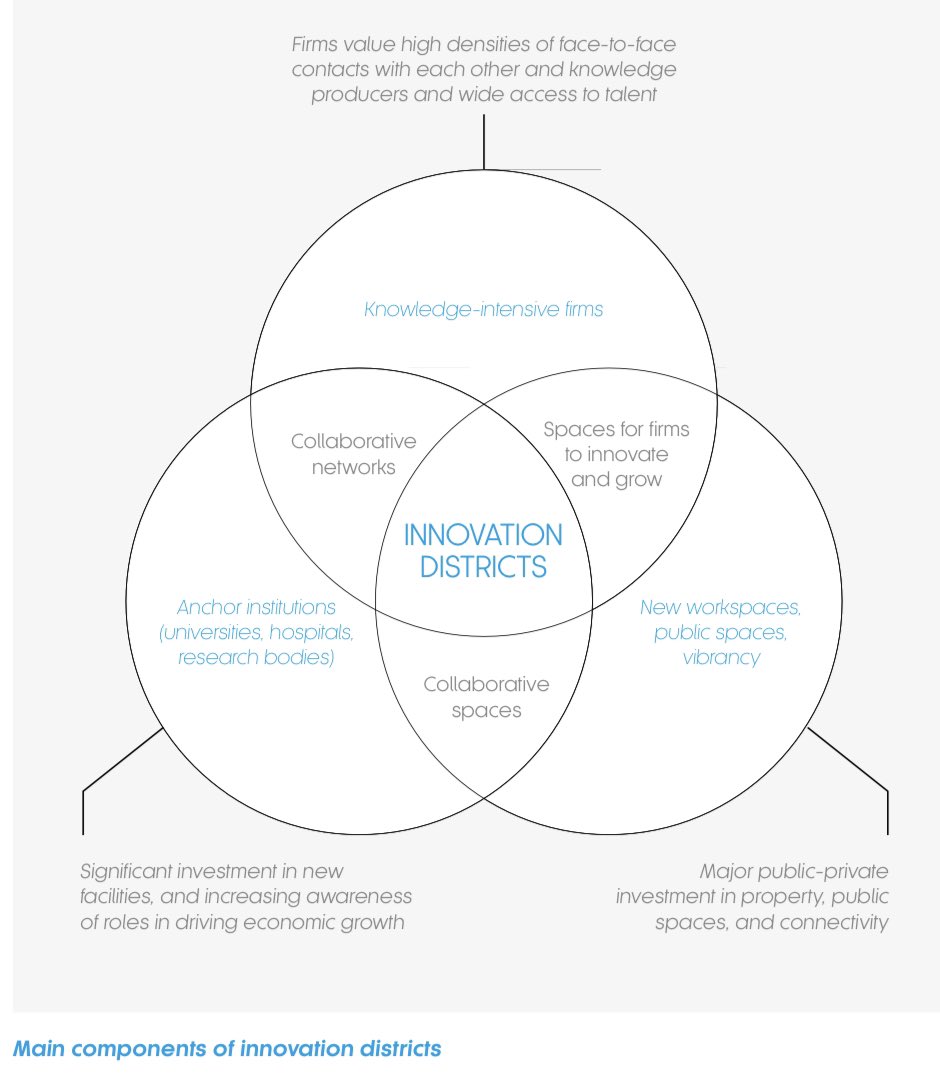 19/19. In conclusion 🇬🇧 has major strengths in growth sectors 🧪 🏭 💻 🎭💡but we need to fulfil the huge potential of cities & places outside London & SE and be better at doing the D not just the R. Investment Zones are a really positive policy and a huge opportunity.
---
Recommended by
Recommendations from around the web and our community.