A leader in web3 writing & literary NFTs. I help writers explore the blockchain. Host of The Write3 Show (Spaces, Tues 3ct). Tweets & threads on web3 & writing.
The Twitter algorithm has changed.
You've felt it. I've felt it.
I ran a series of experiments to figure it out.
I found the ONE MAJOR change you need to know.
Here's 3 modifications I'm making right now to cut through the noise and master the new algo.
A 🧵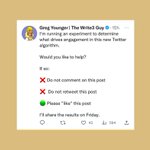 Don't miss out curated content from your favorite people
Join to see curated content, recommendations and collections from your favorite people.
Find creators I follow