CEO @80000Hours
Career strategy, effective altruism and using research to have a nice life 🦑
Find my monthly newsletter: http://80000hours.org/newsletter/
Which career paths are highest-impact?
We've updated our top 10 most recommended list.
A 🧵 about what they're based on, how they've changed & the 25 other paths we recommend.
/1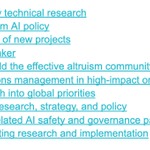 What's the most effective way to tackle climate change?

My take on research in effective altruism to date.

It seems that many popular approaches (eg recycling, planting trees) don't obviously work or are expensive ($100+ per tonne CO2), but...

/1
Don't miss out curated content from your favorite people
Join to see curated content, recommendations and collections from your favorite people.
Find creators I follow