Why additions to cash balances cannot be categorized as consumption or saving/investment. 🧵

We only say a burrito is a consumption good because that is the way it is virtually always used. We say a forklift is a producer's good for the same reason.
Look at this diagram for sticky wages by MRU (Cowen and Tabarrok). It clearly shows a mismatch between Qs and Qd in a labor market.
Pay close attention to the causes of sticky wages as explained by Tabarrok: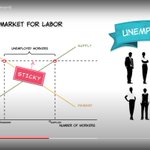 Don't miss out curated content from your favorite people
Join to see curated content, recommendations and collections from your favorite people.
Find creators I follow