Co-founder | http://DemandCurve.com (YC S19) and http://BellCurve.com.
I help people start, build, and grow companies.
At 18:
• No real friends
• ~300 pounds
• Socially anxious
• Addicted to video games
• Thought I'd be poor forever
• Doing a degree I hated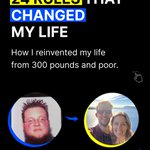 Here's how to double conversion on your startup's homepage.

(From rewriting over 1,000 websites.)

A thread 👇
Don't miss out curated content from your favorite people
Join to see curated content, recommendations and collections from your favorite people.
Find creators I follow