Helping investors become smarter & more informed about exchanges.
A very interesting back & forth happened during MSCI's earnings call last quarter that gets to the heart of the controversy surrounding ESG. I'll summarize & contextualize this back & forth below.
It all started with this question from sell-side analyst Alex Kramm: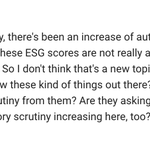 Don't miss out curated content from your favorite people
Join to see curated content, recommendations and collections from your favorite people.
Find creators I follow