I'm old, so I used to work making buildings safe from airborne pathogens like Legionella.

Do you know why you don't keep catching Legionella?
Have you ever seen a mixing desk?
At first glance, they are absolutely bewildering.
But if you think they're complicated, then you're probably not going to be able to get your head round the complexity of the processes of the human body.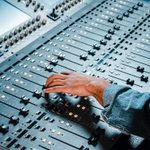 Don't miss out curated content from your favorite people
Join to see curated content, recommendations and collections from your favorite people.
Find creators I follow